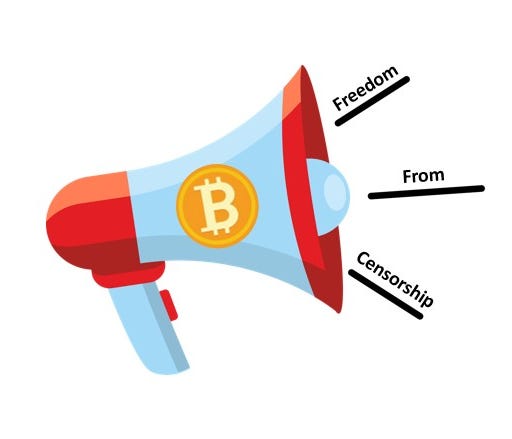 Feb 8 • 4M
Letter #84: Bitcoin is Censorship-Free Money You Can Count On
Read now to learn how Bitcoin will never censor you or your money, no matter your beliefs or your actions.
Your one-stop shop for Bitcoin education!
Dear Readers,
Social media has been ablaze for the past several days as commentators around the world have seemingly rallied against what many consider to be a gross overreach of authority by GoFundMe, the self-proclaimed "#1 Fundraising Platform for Crowdfunding". The story actually begins though several weeks ago, when a large group of cross-border truckers organized against a mandate proposed by the Canadian government that required them to submit to COVID-19 vaccination. As with most things related to COVID-19 these days, the movement quickly became politicized, with both supporters and detractors vying for global attention. When GoFundMe came under pressure on various fronts last week, the company not only paused a fundraiser dedicated to the trucker convoy, but also seized around $10 million Canadian dollars donated by tens of thousands of supporters, saying:
To ensure GoFundMe remains a trusted platform, we work with local authorities to ensure we have a detailed, factual understanding of events taking place on the ground. Following a review of relevant facts and multiple discussions with local law enforcement and city officials, this fundraiser is now in violation of our Terms of Service and has been removed from the platform.
Most of the money never made it to its destination, as if the donations never happened at all. Such a result should be largely familiar to us at this point. After all, the traditional financial system has been molded over decades to ensure that those in power have the ability to swoop in and halt the transmission of money to causes and organizations with which they don't agree. Maintaining that ability is one of the primary reasons why governments and regulators have so thoroughly entrenched themselves in global financial systems. The ability to transact with money is humanity's lifeblood, and governments want to be in a position to easily snuff it out when they feel it's necessary.
For each of us though, perhaps the problem isn't so much whose money has been seized in the past and for what reasons. The real problem is that it could happen to us. Our money could be seized at any point, whether we're in the right or the wrong.
Bitcoin is Censorship-Resistant Money
A growing number of spectators on Twitter have begun to comment on the GoFundMe saga by implying that the situation would have played out very differently if donations had been made over the Bitcoin blockchain rather than in fiat on GoFundMe's centralized service. If you think that they're on to something, you're absolutely right:
Bitcoin is Impartial
Governments will tell you that their ability to stranglehold the financial system is what helps keep "bad actors" out and the world safe. There's just one problem: who are governments to decide between right and wrong and what can we do when we disagree with them? We can opt out of their system.
Bitcoin is impartial. The blockchain itself is just code. It executes, no matter who participates and what each individual user's morals may be. On top of that, Bitcoin is used first and foremost by people whose primary goal is simply to have absolute, irrevocable control of their money. They have no interest in welcoming any central authority into the network to dictate how they can use their money.
Money transmission in a centralized monetary network happens only with the blessing of the corporation or government overseeing the network. If they don't like you, your beliefs, or how you're spending your money, then they'll reverse your transactions or refuse to process them in the first place. They'll also likely kick you off the network. Maybe you'll get your money back. Maybe you won't.
No one controls the flow of value across the Bitcoin blockchain, other than senders and recipients themselves. What that means is that Bitcoin transactions are completely irreversible (unless a recipient chooses, of their own free will, to send the Bitcoin back).
Why does transaction irreversibility matter? Because when you and you alone can control the movement of your wealth, your financial security and self-sovereignty are assured. In other words, you are reliant on no one but yourself for your own financial well-being.
A (BTC) Lesson Learned
At least part of the Canadian trucker movement appears to have learned a lesson from entrusting their financial sovereignty to GoFundMe, since a separate fundraiser was subsequently launched on a non-custodial Bitcoin fundraising website on which the fundraisers could take direct and immediate custody of donations. Whether or not you agree with their beliefs, you can learn from their experience: entrusting your money and finances to centralized governments and centralized corporations only works up until the point where they no longer think you're on their side.
I choose Bitcoin, where the network accepts me no matter what. What will you choose?
---
Like what you see, but not a subscriber yet?
Consider subscribing for two weekly emails about Bitcoin and Crypto, subscriber giveaways, real-time community discussions and more!
---
Can't Get Enough Bitcoin In Your Life? Follow me on Social Media:
---
Bitcoin is my passion and my mission is to give as many people as possible the chance to learn how it can change their lives for the better. Want to support me and my mission?
---
Blockchain Word of the Day
Want to learn more Blockchain words?
---
🙋🏽‍♂️Did you enjoy this edition of The HiFi Crypto Letters?
This 3-question survey is your chance to tell me how I can improve the newsletter for you.
---
This is not financial advice. This newsletter and related content are for informational purposes only. Cryptocurrencies and digital assets can be risky. Always do your own research before making any sort of investment.