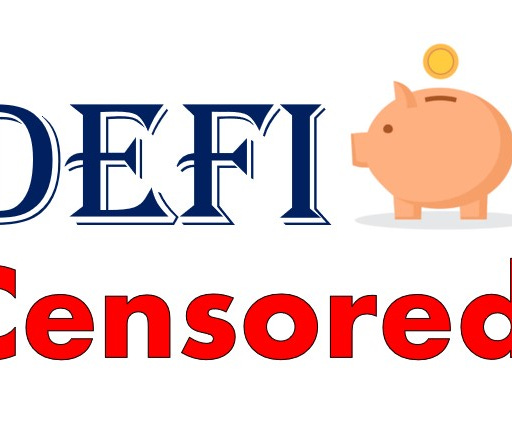 Mar 8
Letter #92: Censorship In Crypto Can Be Infuriating
Read now to learn how censorship-resistance is key to determining whether a DeFi protocol is truly decentralized or just masquerading as such.
Your one-stop shop for Bitcoin education!
Dear Readers,
The world of crypto is vast. Bitcoin, the largest and most decentralized blockchain, has spawned an army of alternative coins (commonly called "altcoins") and projects, each seemingly more nuanced than the last. And the growth of the industry shows no signs of stopping.
Many altcoins have attempted to incorporate some of Bitcoin's characteristics into their own blockchains, but world events, especially recently, are proving that Bitcoin is still in a league of its own. For example, many stories have been told recently about Bitcoin's superior ability to protect and transfer wealth for Canadians, Ukrainians, Russians, and others who are hurt, usually through no fault of their own, by financial censorship and sanctions. Bitcoin has quite literally been a lifeline for many of those users.
Unfortunately, the same can't always be said for other blockchains, even the largest and most well-developed it turns out. Supporters of the world's second-largest cryptocurrency, Ethereum, were shocked last week when several large platforms operating on top of the blockchain began blocking users of certain jurisdictions from accessing their services:
OpenSea
Many Iranian users of OpenSea, currently the largest and most popular NFT platform of all, reported being unable to access their NFT collections or the rest of the platform, for no reason other than having been born in a country currently on the United States' sanction list. The timing is rather suspect in my opinion, given that Iran has been sanctioned for quite some time now and the ban didn't happen until last week.
Infura
Infura is an Infrastructure-as-a-Service provider and operates Ethereum nodes for many of the largest protocols on that blockchain. As a result, a protocol's loss of access to Infura essentially equates to losing access to the Ethereum blockchain itself, at least until the protocol can set up its own node, a process that can take up to a few days. Imagine the despair then of many users in Venezuela, where citizens themselves are not subject to sanctions, when Infura mistakenly blocked their access when taking its own actions to address the United States' sanction list.
To be clear, the Ethereum blockchain is more than the sum of its parts. In other words, the discriminatory actions of platforms built on top of Ethereum do not necessarily equal discriminatory behavior by the blockchain itself. But they do call into question how decentralized DeFi (or "Decentralized Finance"), the bulk of which still lives on Ethereum, really is.
The "Spectrum" Of Decentralization
I've often heard that there are varying degrees of decentralization, and, if it's true, that certainly seems to be the case for DeFi. As such, my comments shouldn't be taken as a criticism of DeFi as a whole, whether on Ethereum or elsewhere. But facts are facts, and all signs point to the fact that OpenSea and Infura are far from truly decentralized. That they were forced to comply with government sanctions rather than resisting such censorship is proof of that.
At their core, Opensea, Infura, and many other popular DeFi platforms are simply blockchain-based companies. Their services may live on top of quasi-decentralized blockchains. But the developers, operators, and stakeholders, without whom the protocols' wouldn't function, are obligated to uphold the decrees, good or bad, of various governments, no matter the consequences for individual users.  If you end up on some government's naughty list, your access to the world of "decentralized" finance may be cut off without warning or recourse.
Bitcoin Vs. Crypto
Let me be clear: I don't despise platforms for being centralized, nor do I believe that they aren't providing a service that many people find valuable. If people didn't enjoy using OpenSea and Infura, then the companies certainly would have gone out of business shortly after setting up shop. 
What is unfortunate is that many new users to the space mistakenly assume that everything built on top of a blockchain must be "decentralized". Then when platforms are revealed to be anything but decentralized, as happened with OpenSea and Infura last week, thosse same users are left devastated, wondering whether true decentralization exists at all.
True decentralization does exist: the Bitcoin blockchain has repeatedly shown itself to be resistant to any attempt to censor usage. Anyone is welcome to send, receive, hodl, operate, or develop on the network, at any time, from anywhere in the world. While platforms and companies in crypto may be powerless to protect your rights, governments and companies are powerless to take them away from you when you use Bitcoin.
---
Like what you see, but not a subscriber yet?
Consider subscribing for two weekly emails about Bitcoin and Crypto, subscriber giveaways, real-time community discussions and more!
---
Can't Get Enough Bitcoin In Your Life? Follow me on Social Media:
---
Bitcoin is my passion and my mission is to give as many people as possible the chance to learn how it can change their lives for the better. Want to support me and my mission?
---
Blockchain Word of the Day
Want to learn more Blockchain words?
---
🙋🏽‍♂️Did you enjoy this edition of The HiFi Crypto Letters?
This 3-question survey is your chance to tell me how I can improve the newsletter for you.
---
This is not financial advice. This newsletter and related content are for informational purposes only. Cryptocurrencies and digital assets can be risky. Always do your own research before making any sort of investment.